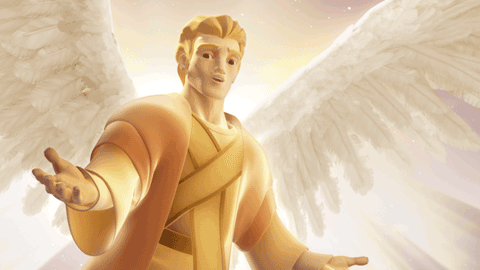 CORE PASSAGE: Luke 1:19
Gabriel is an awesome angel. His name means "strong man of God" or "God is my warrior." He is one of only two angels named in the Bible. The other is Michael. Gabriel appears in both the Old and New Testaments. He is mentioned four times in the Bible, and each time, he brings an amazing message from God.
In the Old Testament, Gabriel appears to Daniel in Daniel 8:15-16 and Daniel 9:21-22, explaining the meaning of his visions and giving him insight and understanding. He looks like a man (Daniel 10:18) and he lives in heaven, in the "very presence of God" (Luke 1:19).
Gabriel's nature reflects the nature of God. For example, he wakes Daniel gently with a touch and helps him to his feet (Daniel 8:18). He reassures Daniel that God loves him (Daniel 9:23) and encourages him not to be afraid – to have peace and not fear (Daniel 10:19).
In the New Testament, Gabriel announces the birth of a son to Zechariah (Luke 1:19) and a son to Mary (Luke 1:28). He always speaks the truth (Luke 1:20). The common reaction of people on seeing angels was fear. Gabriel reassures the people he speaks to by saying, "Don't be afraid" (Luke 1:13, Luke 2:10).
LIFE LESSONS:
• Live close to God so that you can reflect God's nature.
• Be willing to share God's good news.
• Always speak the truth.
Other New Testament Biographies